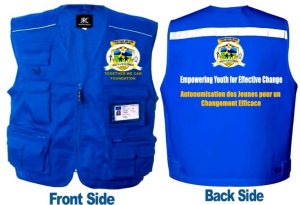 SLOGAN: "ZERO TOLERANCE TO SEXUAL EXPLOITATION AND ABUSE''
Together We Can Foundation was founded in 2012 by a dedicated group of multicultural lawyers and physicians living in Northern and Southern KIVU of Democratic Republic of Congo, and Then initiative was expanded in ITURI Province of Democratic Republic of Congo.
This entire group of professionals in health and rights was united by a shared commitment to improve the health and living conditions of marginalized women and girls. Today, Together We Can Foundation brings a vast experience in laws, medicine, public health, and community development to engage in fighting for African women well-being.
We care, weempower,wetransform. "Every Woman Deserves Good Health, Care and Protection". "They need empathy from you". Sponsor an African marginalized woman and little girls living in merciless and critical conditions of health. Founded in 2012, we are a nonprofit organization in the East African Community dedicated to the care of marginalized women and girls victims of Gender Based Violence. We impact the lives of hundreds of thousand women and girls byadvocating for their sexual reproductive health and rights and boost up their socio-economic development through our main programs includinghealth programs mainly HIV/AIDS programs, Health promotion, Technical Assistance Support, Prevention of Communicable diseases, Farming Programs and Entrepreneurship activitiesand Women's Development Cooperatives.
Inspiring the step forward in the way the society treats women and girls and achieving a pressing and longstanding change in their lives.
Working towards the women's empowerment and to end health rights Violationof female human beings in East Africa to raise them to a gradewhere they can deliberately and impartially adore their health, rights and development irrespective of their backgrounds.
Together We Can Foundation values are:
• Empathy
• Accountability
• Flexibility
• Self-mutual respect
• Self-esteem
• Time management.
Together We Can Foundation is to advocate for Sexual Reproductive Health Rights (SRHR), law enforcement and implementation on Women protection, quick investigation, reporting and handover for a quick prosecution of sexual gender based violence cases and to advocate for strengthened Congolese Judicial systems to prevent Gender Based Violence.
• To protect and empower Victims of Female Genital Mutilations and Child early and forced Marriage. • To provide rights based-skills to marginalized girls and women. • To promote gender empowerment through gender equality and balance promotion. • To promote the sexual reproductive health and rights among youth and women and girls mainly Family planning, HIV/AIDs awareness and maternal health promotion. • To build women healthier lives, free of abuse. • Stewarding legal support to females denied justice.
• We are performance driven, through the lens of humanity to strength of Justice to End Gender Based Violence. • Creating a culture of an open door policy, where everyone is protected to build Judicial Systems forms Vital to Fight Gender through advocacy. Create a just and equitable World free of HIV/AIDs, Gender Based-Violence, Sexual reproductive health rights' violations and other women's abuse. • Promoting Equality and justice for everyone.
• Together We Can Foundation has managed to build a competent team of employees through our Learning Opportunity programme (LOP). • Together We Can Foundation has improved our stakeholders list from 5 to 10 including CSOs, local and international organizations, local authorities, religious and cultural leaders. • Together We Can Foundation has achieved good management skills during the previous implemented projects and advocacy skills through our experience as a nongovernmental organization. • Together We Can Foundation has also perpetuated our organization through a strong fundraising team of 10 professional volunteers.
Together We Can Foundation is committed to stop any form of GBV in our communities through prevention, reporting and responding and it is committed to raise HIV/AIDs massive awareness and continue preventing HIV/AIDs transmission and promoting the sexual reproductive health rights among women and girls. Together We Can Foundation is committed to strengthening the capacity of communities for them to continue protecting, preventing, responding to all forms of abuse, and access to justice and to empower the marginalized women and girls with life skills to improve their socio-economic power and women's life conditions through our networking.
For more, Download Together we Can Foundation Document